<< I'm feeling a bit like Rip Van Winkle...
|
Main
|
A few of my favorite things >>
Friday Fill-In #46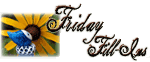 Don't forget ... the Friday Fill-Ins are over here now!
1. The things I give thanks for this Thanksgiving are many and varied.
2. My Thanksgiving traditions include cooking, eating and cleaning
3. The best part about Thanksgiving is having two days off from work.
4. My favorite Thanksgiving food is the chestnut stuffing!
5. Um...I plead the 5th was the most embarrassing thing that ever happened to me on Thanksgiving.
6. After the meal, I clean up and put things away.
7. And as for the weekend, tonight I'm looking forward to relaxing, tomorrow my plans include getting my hair done and Sunday, I want to grocery shop for next week!
Comments
Comments
I took off the Monday and Tuesday AFTER Thanksgiving this year! So its like a mini vacation - but Im no going anywhere lol!
Posted by
Laura
at November 16, 2007 8:43 AM
I hadn't realized it was Thanksgiving next week either. But then my excuse is that I live in Japan and I'm Canadian! ;P
I'm finally starting to catch up on blog reading. I really enjoyed all your Halloween posts and various pics. :)
Posted by
tanabata
at November 16, 2007 9:02 AM
How could I have forgetting to celebrate the two days off work??!! That is a good thing.
Posted by
Elizabeth
at November 16, 2007 10:53 AM
Ditto on #3! Haha We're having a very quiet Thanksgiving this year, just the two of us--it's been like that the last three or four years now actually. It's nice, although sometimes I miss getting together with family.
Have a great weekend!
I've never had chestnut stuffing. I played!
Posted by
leslie
at November 16, 2007 2:33 PM
I completely agree with #3!
You know that your answer to #5 has me feeling quite curious. ;-)
Posted by
Lisa
at November 16, 2007 2:50 PM
I have never had chestnut stuffing! I can't believe it is almost Thanksgiving....seems like last week it was Halloween!
Hope you are relaxing this fine evening.
Posted by
tommiea
at November 16, 2007 8:59 PM
This is a great exercise, thanks for sharing. I'm getting my hair done tomorrow, too!
Be well*
Posted by
stephanie
at November 17, 2007 1:55 AM
Post a Comment